Communications
Kyung-Tak Lee, OMA COM WG Chair
Overview
The OMA Communications Working Group (OMA COM WG) is responsible for service layer standardization of communications related technologies, allowing companies to build communications solutions on top of OMA Service Enablers. OMA COM specifications include areas such as Messaging, Push-to-talk over Cellular, Presence, Contact Information and Address Book, Media and Data Management, Enhanced Visual Voice Mail and Spam Reporting. With a focus on interoperability among a wide variety of legacy systems and the convergence of those systems with new IP based services and technologies, the primary goal of OMA COM is to enhance the user experience and the operator's ability to build comprehensive messaging and communications systems.
The COM WG has produced high quality specifications through regular collaborations with other standardization bodies, organizations and associations, such as 3GPP/3GPP2, GSMA, IETF and W3C. As a result, many of its specifications have been formally endorsed and are being deployed for commercial services by different network operators, vendors and projects, including the GSMA Rich Communication Suite (RCS) related projects.
Bringing Value to the Mobile Industry
The COM Working Group has been responding to the expanding communication market trends and needs by releasing:
New Service Enablers focused on convergence and harmonizing of existing services to simplify the user's everyday life, in addition to providing a more innovative and enriched communication experience, such as Converged IP Messaging, Immersive Social Centre, Converged Address Book, Enhanced Visual Voice Mail and Presence.
Generic Enablers, such as XML Document Management and Spam Reporting, that facilitate reuse of common functionality to minimizie implementation efforts for various COM and OMA Enablers
Early Service Enablers inherited from previous pre-OMA forums with constant improvements to provide a better user experience, such as IMPS (Instant Messaging) and MMS.
The COM Working Group has produced high quality specifications through regular collaborations with other standardization bodies, organizations and associations, such as 3GPP/3GPP2, GSMA, IETF and W3C. As a result, many of its specifications have been or are being deployed for commercial products by different network operators, vendors and projects, including the GSMA Rich Communication Suite related projects.
Active OMA COM WG Members
OMA members active in the COM WG include Alcatel-Lucent, AT&T, China Unicom, Deutsche Telekom, Ericsson, Interop Technologies, Nokia Siemens Networks, Orange, Blackberry, Samsung, Telefonica, Verizon and ZTE Corporation.
COM WG 2013 Achievements
OMA Converged IP Messaging 2.0 (OMA CPM 2.0)
The world of mobile messaging is experiencing a transformation from the traditional SMS and MMS to rich, multi-device Instant Messaging, Rich Communications, media sharing, cloud messaging, web access and storage of user generated content. GSMA has developed the Rich Communications Suite (RCS) Release 5 specifications as guidelines that can be used by mobile operators to offer enriched voice, video and messaging services. GSMA RCS has identified using OMA Converged IP Messaging (CPM) as the forward-looking messaging platform to offer IP based messaging services. However, there are a few messaging related requirements in GSMA RCS R5 specifications that are not supported by the OMA CPM v.1.0 Enabler. The CPM v.2.0 Enabler evolves CPM v.1.0 to support these new RCS 5.1 requirements up to the latest maintenance release (i.e. RCS 5.1 v4.0) by developing an industry standards based solution.
As the evolution standard for messaging services, CPM 2.0 provides a set of procedures for SIMPLE IM 2.0 evolution to CPM 2.0 and addresses CPM 1.0 evolution matters.
The main features included in OMA CPM v.2.0 are:
Support for disposition notifications for chat messages and file transfer
Support for storing chat messages and associated notifications while a chat participant is not available, and delivery of stored chat messages and their received disposition notifications once the recipient becomes available
Support for closed and long-lived chat groups
Enhanced multi-device functionality for chat
Enhanced file transfer with support for thumbnails and suspend/resume operations
Support for live recording of chat messages
Interworking with SIMPLE IM
Fixing any CPM 1.0 Enabler bugs found during this development process
Maintenance Work on COM Enablers
OMA Simplified Converged Address Book (S-CAB) 1.0, OMA SIMPLE IM 2.0 and OMA XML Document Management (XDM) 2.2 are COM Enablers that are undergoing maintenance work based on bugs reported from implementations and market deployments. Maintenance phase, per OMA process, takes place between Candidate Approval and Final Package Approval.
Market and Industry Endorsement of COM Enablers
GSMA RCS service specifications endorsed several OMA COM Enablers and created a rich service suite based on them, including:
OMA SIMPLE Instant Messaging (IM) v.2.0
OMA Converged IP Messaging (CPM) v2.0,
OMA XML Document Management (XDM) v.1.1 & v.2.0 and
OMA Presence v.2.0
All are endorsed in the GSMA RCS 5.1 service specifications.
COM WG Highlighted Achievements 2002-2012
The following enablers represent some of the successful specifications delivered by COM WG over the last 10 years.
OMA Multimedia Messaging Services (OMA MMS)
The OMA MMS enabler provides a rich set of multimedia messages and full interoperability for both sending and receiving between enabled client devices.
OMA Instant Messaging Service (OMA IMPS, OMA SIMPLE IM)
With the emergence of 3G networks supported by architectural frameworks, such as the IP Multimedia Subsystem (IMS), SIP/SIMPLE progressively became the preferred technology for future Instant Messaging and Presence services.
OMA Converged IP Messaging (OMA CPM)
OMA CPM defines a framework for the convergence of multi-media communication services built on top of a SIP/IP core infrastructure, while leveraging standardized service functionalities from existing communication enablers. This framework comprises a set of functional components and interfaces that have been designed to facilitate easy deployment of existing and future communication services.
OMA Converged Address Book (OMA CAB)
OMA CAB is an evolution of the address book and is expected to serve as a launch pad for new services that are built around contact information. This allows the use of a single network-based address book environment by a variety of services and devices. It provides advanced features aimed at enhancing the functionality and user experience of the address book.
OMA Simplified Converged Address Book (OMA S-CAB)
OMA S-CAB is an alternative evolution of the network address book, building on top of the features provided by CAB, but using a different technology approach.
While automatic updates of the network address book with published profile information provided by other users' Personal Contact Cards is the core feature, the S-CAB enabler adds new features, such as the network aggregated Communication History from all devices and import/export/subscription features to/from external non-S-CAB systems.
S-CAB targets a simplified architecture with simple interfaces towards the devices. S-CAB provides only one set of protocols towards the clients, which is reusing the XDM Enabler interfaces.
OMA Enhanced Visual Voice Mail (OMA EVVM)
OMA EVVM develops an enabler that will be used by operators to offer enhanced voicemail service. It builds upon the OMTP/GSMA VVM 1.3 Specifications to further focus on improving the existing voicemail service with market driven requirements.
Future Plans for 2014 and Beyond
OMA Immersive Social Center (OMA ISC)
Ongoing trends suggest convergence of content viewing and communication, e.g. chatting with friends while watching a soccer match or searching through the web for the biography of a celebrity appearing in an interview. Also, it is evident that there is increasing user need for more realistic (immersive) content, e.g. 3D, multi-view watching, and telepresence. However, there is little effort being done to integrate content viewing and communication experience in a cohesive manner, while leveraging the immersive ("being-there" and "being-with") experience in an integrated viewing and communication environment.
The OMA ISC Enabler will specify a service-level framework (mainly leveraging SIP) to enable a standardized integration of content viewing and communication experience, providing an immersive being-there/ being-with experience. The usage of multiple devices will also be leveraged under these contexts, such as content viewing and communication with different devices, or distribution of multiple content views to multiple devices to provide an immersive feeling. Such experience can be applicable to various categories of events such as leisure, personal, organizational, cultural, etc. OMA ISC 1.0 release is planned for March 2014.
Further Messaging Evolution: OMA Converged IP Messaging
The collaboration with GSMA on standards support for RCS services will continue in 2014. A new CPM Enabler release is envisaged to cover standardization of new messaging requirements for RCS 5.2 and 6.0.
Push-to-Communicate for Public Safety
Public Safety represents a very significant market everywhere in the world. Push-to-Communicate for Public Safety (PCPS) services focus on a specific type of wide-area communication. These services are intended for first responders such as police, fire, and ambulance with a context that has very aggressive requirements in terms of performance, robustness and reliability. Up to now, Public Safety services were provided through regional public safety standards such as TETRA and P25 that provide features not previously supported in commercial cellular systems. There is now growing industry support for the use of LTE commercial technology, both with dedicated private and shared commercial spectrum, for Public Safety networks and services. The advantages of this approach include economies of scale, a new level of investment, and a global standards-based approach that ensures interoperability between different vendors and networks.
The OMA Push-to-talk over Cellular (PoC) Enabler standardizes a two-way form of communications that allows users to engage in immediate communication with one or more receivers, similar to a Walkie-Talkie, simply by pushing a button on their handsets. Many other features have been added from its first version up to the last version (2.1) released by OMA in 2011. The OMA PoC standard has been evaluated as a good baseline for further enhancements to meet the Public Safety use cases, and a new Work Item "Push-to-Communicate for Public Safety" has been approved and assigned to the OMA COM WG. The relevance of such activity is also highlighted by the fact that regulatory organizations such as FirstNet (First Responder Network Authority, an independent authority within the U.S. Department of Commerce's NTIA) and the UK Home Office have joined OMA and will contribute to this work.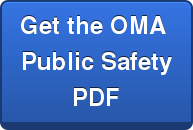 Final Words
The OMA COM Working Group will continue to be a leader in the creation of many service enablers focused on convergence and enriched communications experience and support, and welcomes participation from everyone to achieve this success.