Government Agency Participants
OMA Welcomes Government Agency Participants
Now government agencies can participate in OMA!
Does your agency have requirements for next generation wireless services? With the introduction of Push to Communicate for Public Safety and Enhanced Location for Public Safety work related activities in OMA, there is an increasing interest from governmental agencies in participation in these activities.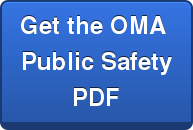 Such institutions often cannot participate directly in organizations with foreign legal jurisdictions, strong confidentiality restrictions or IPR requirements.  However, such institutions have information and requirements vital to many of the decisions that OMA undertakes with respect to the Public Safety work activities. In view of this, the OMA Board of Directors has approved the creation of new category of participant called "Government Agency (GA) Participant."
A GA Participant has full access to OMA meetings and the online members' portal with essential benefits of an Associate member. A GA Participant can attend, contribute but not vote on OMA deliberations. There is no participation fee. However, face-to-face meeting fees are not waived. As GA Participant, one will have a special identity badge.
GA Participant Selection Process
• An OMA member(s) proposes to invite a Government Agency for participation.
• The inviting member will draft short note to Board naming agency, scope of agency, primary contact information, and the reason for participation in OMA including work area.
• Staff will forward the note to the Board for the normal 72 hour review.
• If no objections are received in the 72 hour review period, the GA will be notified and added to the portal database. At that point, they will have access to meetings, lists, and documents.
• The GA will also receive an email from OMA listing the Guidelines for Participation.
Click this link for a PDF download with more details on OMA Governmental Agency Participants.
Questions? Contact Michelle Janata at mjanata@omaorg.org.